GiftCARDS
Now available at Anime and Things Online!
Five designs to choose from. Get one for a friend, your sister, your dad, or even for yourself!
Buy Now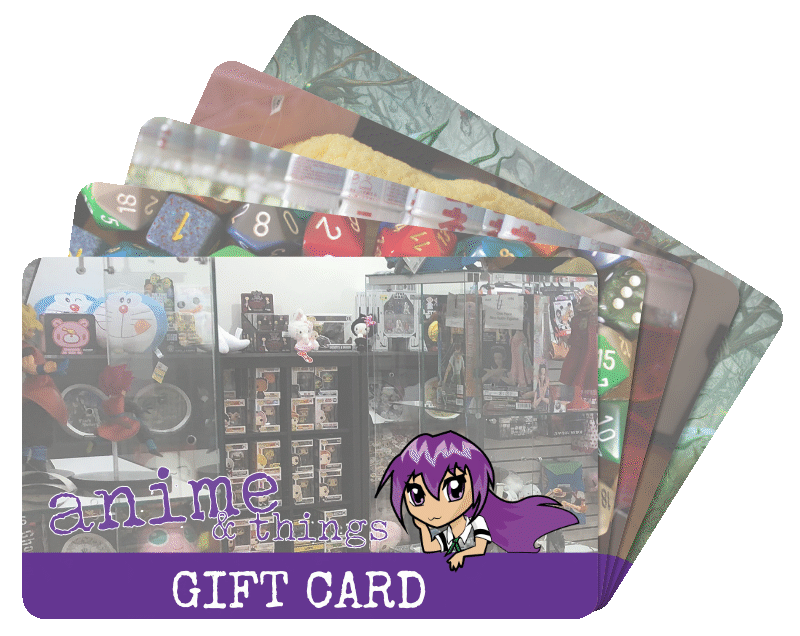 Shop Online for In-Store Pickup!
Anime and Things Holiday Hours
Our Extended Holiday Hours for 2021 begin November 26th!
SUNDAY: 11:00 am – 4:00 pm
MON & TUES: Closed
WEDNESDAY: 11:00 am – 4:00 pm
THURSDAY: 11:00 am – 4:00 pm
FRIDAY: 11:00 am – 6:00 pm
SATURDAY: 11:00 am – 5:00 pm
UPDATED COVID Rules: Face coverings are REQUIRED for all our guests. We thank you for your cooperation and support during this very difficult time!
Our online store is always open and we will continue to offer in-store pickup. Choose from our full inventory from the comfort of your home and we'll get it ready for you!
NEW at ANIME AND THINGS
New items debut in-store every week!
Don't see what you're looking for? Contact us!
SUBSCRIBE FOR NEWS & POSTS