In the month of June we are devoting Manga Mondays to highlight LGBTQA+ titles. This week we are focusing on Boys Love (BL) titles.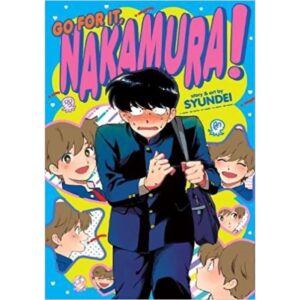 Go For It, Nakamura! and the sequel, Go For It Again, Nakamura! have become classics in the BL genre. Nakamura is a shy high school boy who falls in love at first sight with a dreamy boy in his class. But will awkward Nakamura be able to overcome his fears to actually talk to his crush?
Our Not-So-Lonely Planet Travel Guide: BL romance meets travel log! Asahi and Mitsuki are a couple and set out to explore the world before they return home to get married. Travel the world with them as they meet the locals, sample the food, and see the sights.
My Love Mix Up: A heartwarming romantic comedy, mistaken identity leads to a blossoming romance between two boys.
Check Please! is a graphic novel based on a popular webcomic series. This cute, funny story of Bitty, a closeted college hockey player with a passion for baking. Go on a journey with Bitty while he bakes pies and learns about life during his freshman and sophomore years on the hockey team. Sports manga meets BL romance in this charming book.