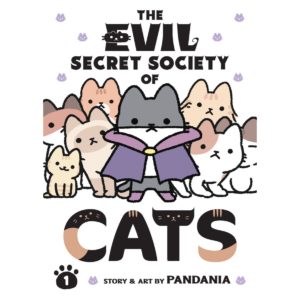 Love cats? There are a lot of great cat manga available! Just like in real life, some of the cats are cute, some are scary, and some even talk! Okay, maybe most don't talk in real life, but they certainly can communicate! Here are some titles to try!
Cat + Gamer: Just like the title implies, a gamer adopts a stray cat and learns how to live and care for it. Fun, heart-warming and cute!
Cat Massage Therapy: What? Cats running the massage parlor? You bet! And wait until you meet the trainees!
My Sister, the Cat: A young man is adopted by a family of cats who walk, talk, and live like humans. How's a teenage boy supposed to manage school, a part-time job and an adoring little sister who is a kitten?
The Masterful Cat is Depressed Again Today: Who's in charge in this comedy about an exhausted office worker who adopts a cat, only to have the cat take over the housework? Yukichi, the cat, walks, shops, cooks, cleans and even draws a bath for his his adoring human when she's had a rough day!
Yokai Cats and The Evil Secret Society of Cats: Both titles uncover the secret world of cats that we always knew existed! Full color comics that will have you laughing from start to finish.