I'm often asked in the store, "Do you read manga?" Yes, I read a lot of it!
"What's your favorite manga?" Well, I have a bunch, so here's a short list of some of my favorites!
I love sports manga and besides the classics like Haikyu!! and Kuroko's Basketball I love: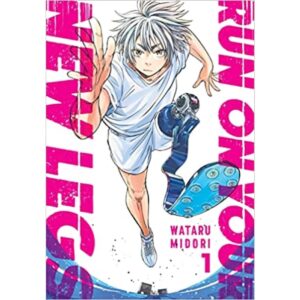 Run on Your New Legs: Shouta Kikuzato's hopes of starting on his school's prestigious soccer team are derailed when a terrible incident costs him his leg. Now in his first year of high school (again), Kikuzato has resigned himself to never reaching his athletic dreams. But when Chidori, a passing prosthetist, notices Kikuzato's artificial limb— and speed—as he races through the train station, the specialist proposes a partnership: Chidori will build Kikuzato a brand-new leg designed solely for speed. All Kikuzato has to do is run!
I'm a big fan of slice of life comedy, and I love it when a ex-hitman or yakuza is thrown into another setting!
Way of the Househusband: He was the fiercest member of the yakuza, a man who left countless underworld legends in his wake. They called him "the Immortal Dragon." But one day he walked away from it all to walk another path-the path of the househusband! The curtain rises on this cozy yakuza comedy!
I enjoy food manga, and this one is just so bizarre and fun!
Crazy Food Truck: The owner of a food truck in a postapocalyptic world nearly runs over a naked girl sleeping in the middle of the desert. When he gives her a lift, he inadvertently takes on her baggage too—an armed militia hot on her trail…and her even more problematic appetite. If one doesn't take him out, the other surely will! Fasten your seatbelts for postapocalyptic cooking and violent mayhem on this crazy food truck road trip!
And another postapocalyptic comedy favorite:
Zom 100: Bucket List Of The Dead: After spending years toiling away for a soul-crushing company, Akira's life has lost its luster. But when a zombie apocalypse ravages his town, it gives him the push he needs to live for himself. Now Akira's on a mission to complete all 100 items on his bucket list before he…well, kicks the bucket. The whole city's swarming with zombies, and even though he's running for his life, Akira has never felt more alive!
This isn't my usual genre, but I just read it and loved it!
Phantom Of The Idol: THIS PHANTOM'S A CUTIE! Yuya, one half of the boy pop duo ZINGS, may be the laziest performer in the Japanese music industry. His partner is out there giving 110% every night, but Yuya's sloppy dancing and his frankly hostile attitude toward the audience has the fans hating him and his agent looking for any excuse to cut him loose. The career of a pop idol just isn't the path of easy leisure Yuya expected… After a particularly lifeless concert appearance, Yuya meets a girl backstage. All she wants from life is to perform. There's just one problem: She's been dead for a year.