As one of our young customers says, "I don't like August because August means back to school. And I don't like school because that means homework!"
Well, let's try to make August and back to school a little more fun this year with some manga set in school!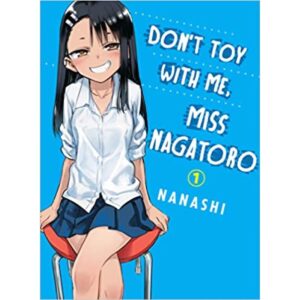 Komi Can't Communicate: Socially anxious high school student Shoko Komi's greatest dream is to make some friends, but everyone at school mistakes her crippling social anxiety for cool reserve! With the whole student body keeping their distance and Komi unable to utter a single word, friendship might be forever beyond her reach. Timid Tadano is a total wallflower, and that's just the way he likes it. But all that changes when he finds himself alone in a classroom on the first day of high school with the legendary Komi. He quickly realizes she isn't aloof—she's just super awkward. Now he's made it his mission to help her on her quest to make 100 friends!
Blue Flag: For some reason, Taichi Ichinose just can't stand Futaba Kuze. But at the start of his third year in high school, he finds himself in the same homeroom as her, along with his childhood friend Toma Mita, a star athlete. But one day, Futaba opens up to Taichi and admits she has a crush on Toma. She then asks for his help in confessing to him! There's just one problem – Toma seems to already have a secret crush on someone else.
Don't Toy With Me, Miss Nagatoro: Nagatoro is a cute freshman in high school who loves to toy with her senior classmate (Senpai). Even though Nagatoro tricks Senpai, makes him cry, and teases him, the two of them are hardly ever apart. Do the two of them really like each other as friends? Or are they toying with the idea that they can be something more…? Find out in this rowdy romantic comedy!
Insomniacs After School: Unable to sleep at night, Ganta Nakami is cranky in class and unpopular with his classmates. He discovers that the school observatory, once used by the now-defunct astronomy club, may be the perfect place for a nap—but he's not alone. Fellow insomniac Isaki Magari is willing to share the observatory with Nakami, and a friendship between the two begins as they bond over the most unlikely of things. Dark rumors about what befell the members of the astronomy club keep people away from the school observatory, and that's what makes it the perfect sanctuary for Nakami and Magari to get some much-needed rest. Unfortunately, the school faculty can't allow its unsanctioned use. But if there were a new astronomy club, maybe these two insomniacs could have a place to call home!
Too much slice of life? Want a little light horror school manga?
Toilet-Bound Hanako-Kun: "Hanako-san, Hanako-san…are you there?" At Kamome Academy, rumors abound about the school's Seven Mysteries, one of which is Hanako-san. Said to occupy the third stall of the third floor girls' bathroom in the old school building, Hanako-san grants any wish when summoned. Nene Yashiro, an occult-loving high school girl who dreams of romance, ventures into this haunted bathroom…but the Hanako-san she meets there is nothing like she imagined! Kamome Academy's Hanako-san…is a boy!