You loved the anime and the manga, but did you know a lot of your favorite series also have spin off light novels? Many are a series of stand alone books, but we've highlighted just one here. These are perfect for your reluctant reader, who has devoured the books from their favorite manga series.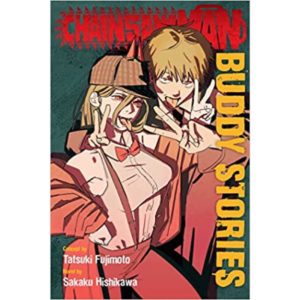 Chainsaw Man Buddy Stories: Chainsaw Man returns in four prose stories of devil-hunting partners!
Power lives out her favorite anime by becoming a genius detective—or so she wants her "audience" to believe! Denji is along for the ride as her assistant for an investigation into disappearances at a mountain hotel. Other stories center on Quanxi and Kishibe's relationship nine years after they met, Himeno and Aki's first assignment together, and Denji, Power, and Aki's dream trip to Enoshima.
Fullmetal Alchemist A New Beginning: Complete the Fullmetal experience with these best-selling novels featuring original stories. Somewhere between magic, art and science exists a world of alchemy. And into this world travel Edward and Alphonse Elric—two brothers in search of the Philosopher's Stone, the ultimate alchemical treasure! Winry, childhood friend of the Elric brothers, is ecstatic to advance her training as an automail mechanic in Rush Valley. Her passion and skills are tested when she crosses paths with a boy who lost a leg and can't get back on his feet. Meanwhile, Edward and Alphonse Elric just can't seem to stay out of trouble, even when they're trying to get noticed for doing good deeds!
Jujutsu Kaisen Summer Of Ashes, Autumn Of Dust: Sorcery and demon curses abound in this collection of stories spun from the world of Jujutsu Kaisen. Cursed spirits have struck the opening blow at Satozakura High School in an unfolding conflict against the jujutsu sorcerers. But while this epic and unyielding battle intensifies, the heroes of Jujutsu Kaisen have other mysteries to solve…such as why Yuji and Megumi see Gojo at a maid café, whether Nanami can uncover the secret behind a website that claims to sell dolls that resurrect the dead, and what happens when a blind old man is able to see the scheming Mahito.
There are a bunch of Naruto light novels
The ninja adventures continue in these stories featuring the characters of Naruto and Boruto! A series of prose novels, straight from the worldwide Naruto franchise. Naruto's allies and enemies take center stage in these fast-paced adventures, with each volume focusing on a particular clanmate, ally, team…or villain, such as:
Naruto Sasuke's Story: The Uchiha And The Heavenly Stardust: Uchiha Sasuke heads for an astronomical observatory, far from the Land of Fire. There, he syncs up with Sakura, and together they dive into an undercover investigation in search of traces of the Sage of Six Paths! They discover a plan that goes beyond life and death, and a battle that will test this husband-and-wife team till death do they part.