In honor of Pride Month, Manga Mondays has been highlighting LGBTQA+ graphic novels and manga. Today we explore some of our favorite transgender titles.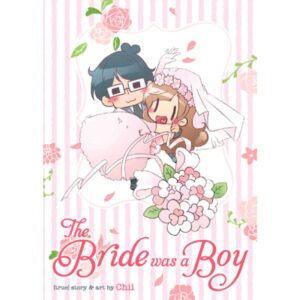 Boys Weekend: Our first title is a brand new release, a humorous horror graphic novel about a bachelor party gone very wrong. Trans woman Sammie attends an old friend's bachelor weekend and struggles with the difficulties of maintaining friendships through transition and realizing that a mysterious cult is also staying at the hotel, ritually dismembering guests and demanding fealty to their bloodthirsty god!
The Bride Was a Boy: A diary comic about Chii, a trans woman exploring her sexuality, gender, and transition, and falling in love. Enjoy this sweet true story of how Chii became a bride.
Boys Run the Riot: A fictional story about a transgender teen trying to sort out his confusion over his own identity meets a new transfer student who shares his taste in fashion. Created by a transgender manga artist and writer, the 4 volume series was completed edited and translated by an all transgender team.
A Quick and Easy Guide to Queer & Trans Identities: This cartoon guide explains the LGBTQ spectrum including topics like sexuality, gender identity and coming out. It includes worksheets and interviews helpful to both those wishing to learn more about queer and trans life, as well as those who are on their own journeys.
Skip & Loafer: An award-winning romantic comedy about a country girl chasing her dreams in Tokyo. This manga isn't specifically LGBTQ but one of the characters is trans, it is just really nice to see trans characters peacefully existing in manga. (Thank you to Nico for this title recommendation!)