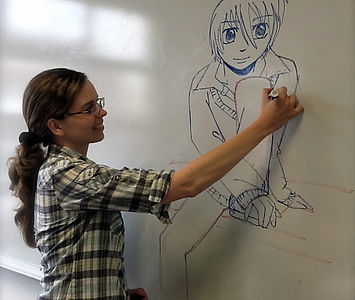 Local professional artists Susan Sieber and Erica Mills will be at Anime and Things this weekend doing drawing demonstrations! On Friday, May 4 from 4-6 they will be showing us how to draw characters from Star Wars. And on Saturday, May 5th from 4-6 they will be drawing characters from the Avengers. Stop in to meet the artists, no registration required.
Susan and Erica both teach at Creative Arts, a non-profit art studio in Crystal Lake. Susan is the creator of Lucy our mascot! Be sure to check out the Creative Arts gallery in our store to see the newest student art work!
In addition to free drawing demonstrations this weekend, we're running lots of in store specials:
Friday, May 4th is Star Wars Day! (May the fourth be with you!) Free Star Wars button with any purchase of $5 or more (limit one per person please).
Saturday, May 5th is Free Comic Book Day! Free comic books for everyone. No purchase required, limit 3 comics per person, while supplies last.
In addition, all Marvel, DC and Star Wars merchandise as well as all books will be 10% off all weekend long!!
A portion of sales this weekend will be donated to Creative Arts as a thank you to their instructors for their generous support of Anime and Things!
Stop by Anime and Things this weekend to join the fun!!